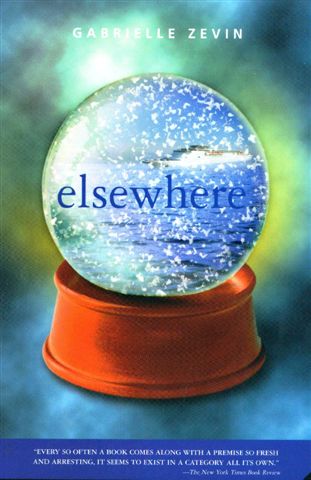 Young Adult
Pages: 288
Publisher: Square Fish
Release Date: August 11, 2005
Welcome to Elsewhere. It is warm, with a breeze, and the beaches are marvelous. It's quiet and peaceful. You can't get sick or any older. Curious to see new paintings by Picasso? Swing by one of Elsewhere's museums. Need to talk to someone about your problems? Stop by Marilyn Monroe's psychiatric practice.
Elsewhere is where fifteen-year-old Liz Hall ends up, after she has died. It is a place so like Earth, yet completely different. Here Liz will age backward from the day of her death until she becomes a baby again and returns to Earth. But Liz wants to turn sixteen, not fourteen again. She wants to get her driver's license. She wants to graduate from high school and go to college. And now that she's dead, Liz is being forced to live a life she doesn't want with a grandmother she has only just met. And it is not going well. How can Liz let go of the only life she has ever known and embrace a new one? Is it possible that a life lived in reverse is no different from a life lived forward?
I often wonder where authors come up with stuff like this. Somehow, it seems crazy to create the plot of many books. But once its on paper and published, it's just downright amazing. Probably if I try to explain to someone what this book is about, it could come off as weird; as many summaries do. But then again, who can summarize a whole book in one or two paragraphs?
Even though I would describe Elsewhere an easy and fresh read, it doesn't mean that the content is not incredibly rich. This is by far one of the most original books I've tumbled upon. I could even be inclined to want to believe this idea or theory. Anyway, I really enjoyed this book. She writes in a wonderful way; the plot is great and the characters are so alive they can step out of the pages.
The cover is quite appealing and very fitting. It was after I was already reading that I noticed the ship inside the snowball- and I liked the cover even more. This book has an interesting premise and different from everything I tend to read. I think the main theme is enjoying your life and appreciating life the way it is. I can't find anything to relate it to, like the New York Times reviewed: "It seems to exist in a category all it's own". If you like different, interesting books, you will like this as well.